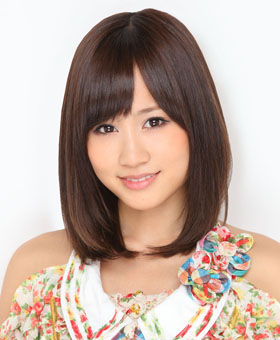 A few minutes ago, I've read the news of AKB48's topstar Maeda Atsuko's gradution! Just imagine my surprise.
I've never been a die-hard fan of the ~48 enterprise but I have to admit, that they're being immensly popular to an extend, that no other Japanese artist has reached. They're obviously doing something right.
A lot of people "blame" this success on front girl Maeda Atsuko, who's been with the group from the very beginning.
And although I'm always going to be one of the people, who thinks that a group consists of more than just one person, there's been some examples of groups, whose success was faiding rapidly after the graduation of the most popular member.
Best example would probably be Morning Musume's Goto Maki. She was the top member for 3 years - during that time Morning Musume reached #1 with almost every single! After her graduation, sales fell so fast it's unbelievable!
Well I don't think that one girl is the reason for AKB's success ... I mean, there are like 47 others ... or how many they currently are.
I'm just wondering ... Is this real? Here's her announcement from Hello!Online:
"Since 14 years old, I've been here as an original member; this has been my life. It's a big decision for me, the 2nd biggest decision I've made. I'm going to graduate.
My moods are swinging easily and perhaps that has caused a lot of troubles for members. To stand in Tokyo Dome is my dream since I was 14 years old. But now, being 20, I remember that there's things that must be done to make dreams come true. I don't know what will come after this but I will work hard. The details haven't been decided yet., when it's been decided, I will tell everyone. Thank you very much"

After this speech Takamina responds with "AKB48 is not the end goal, this is the same for all members. Please support Atsuko's graduation!"
This is weird, don't you think? Right now I'm thinking, that maybe this is another promotion trick. You never know. AKB never had the BEST or most creative songs, but damn they know how to sell themselves and keep in the public interest.
And what does Takamina mean? Sounds to me, like she's trying to prepare the fans for more graduations to come. Every girl is building another career apart vom AKB48 ... just look at Itano Tomomi.
Well I'm really curious about the things to come.
And I'm not too shy to say, that I hope that now Morning Musume has the chance to gain some new fans!